Betting is interesting process but apart from getting some adrenaline it can help you to earn some money. Most of bettors think that betting is easy money but at the end they lose. If you want to make money from betting you have to make smart bets, you have to analyze matches. Lineup today is created by professional players for professionals and for beginners who want to become profi in near future.
We want to show you how exactly lineuptoday is working but before want to remind what we mean under "analyzing matches". It means that you have to count a lot of factors which can influence outcome like:
team tiredness, schedule;
motivation;
weather conditions;
injuries;
suspensions;
key players missing;
problems in defensive line, midfield or attack;
There are a lot of factors which can play a big part on outcome and a lot of books been written about it. But we have mentioned most important factors above and created lineuptoday which is covering all those factors and will make your betting much profitable and easier.
Sometimes head coaches playing mind games rating key players like doubtful or hiding injury news not to give advantage to opposite coach that's why we decided to stick with starting XI and when you see lineups you get clear view of problems teams actually have.
Our service is analyzing lineup from more than 500 leagues and unique interface allows you to get all important info as past as possible.
Let's see on example who to use our interface:

If you use Profi tariff you'll be able to see percentage of current starting XI from ideal (most used) lineup. Ideal lineup – starting XI based on minutes played this season and in out interface will shoe ideal lineup like 100%. If there are a few absentees in lineup percentage will be changing.
For example we have chosen match from Romania Viitorul – Dinamo. Percentage of ideal lineup is 85% on 69%. When you click on match you'll see interface with detailed info.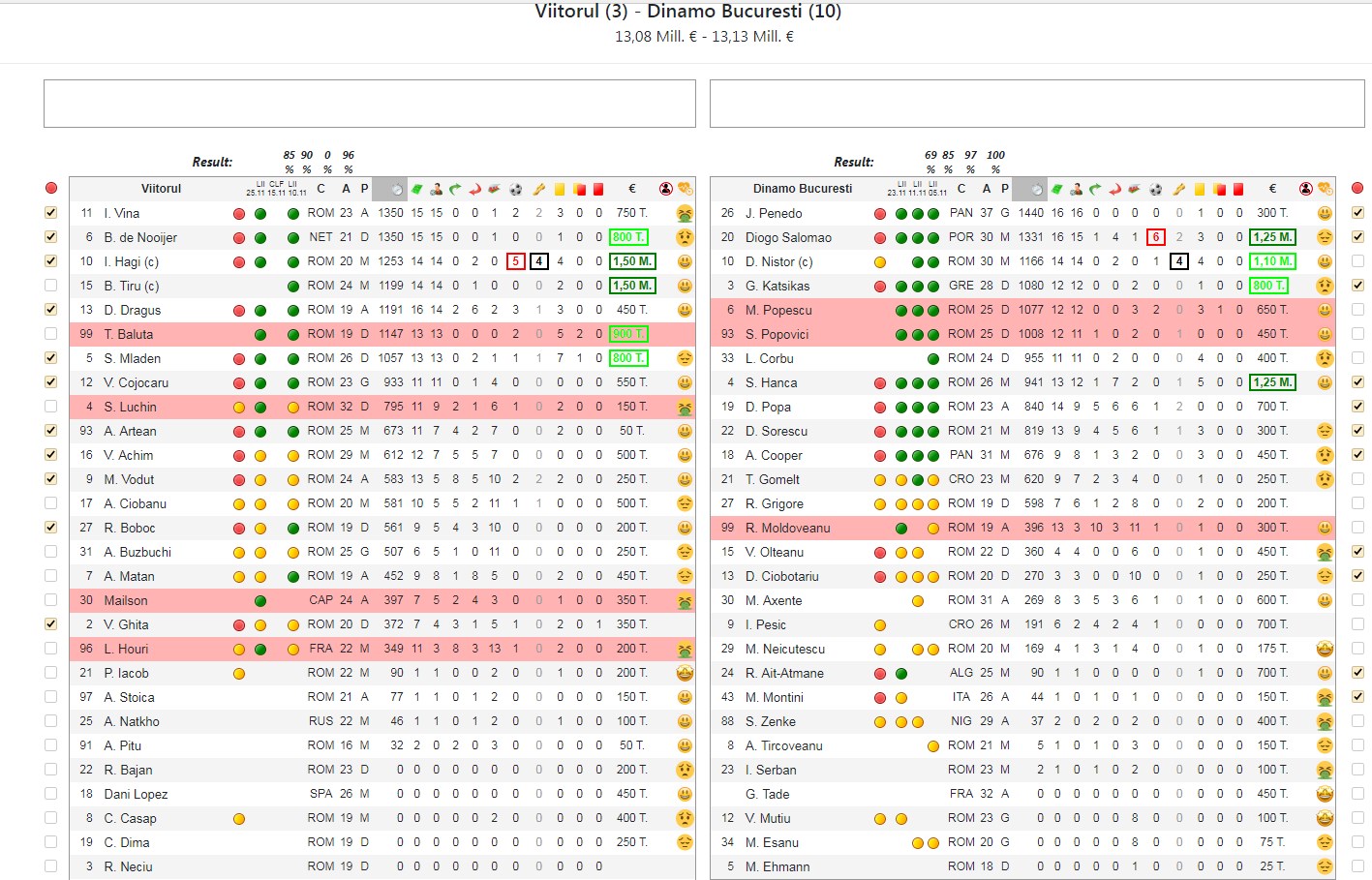 Players are sorted by minutes played this season so most used players are at beginning of the list.
Green dots – starting lineups from last 3 games while yellow dots – bench players from those games.
Red dots – starting XI for current match. We usually get them 1 hour before kick-off.
In this match we compared current lineup to last match's lineup and fresh missing players and mark by red line. As we see both teams are missing 2 regular defenders. We can analyze which players are going to take their places including their age, minutes played this season and market value. We call it "analyzing football match" as there are clear problems in defensive line. Current analyze tend us to think that it's going to be high scoring match so we stick with over 2.5 bet. We also took into consideration that weather conditions are good and all key offensive players are starting. So there should be goals and we take over 2.5 for nice price 2.19 on pinnacle.

Bet won in first half (2-1) while final score was 4-1.
So on current example we showed you how analyzing factors which could impact outcome is important.
Lineups today give you opportunity to get thousands matches and make smart calls thanks to our system and interface.