About 1-1.5 hours before kick-off we receive info about starting lineups from different trusted sources.
When you visit our page you can see list of matches which are due to start and we have starting 11 for. Note that we give info about English Premier League and Russian Premier League for free.
Now let's talk about navigation. First column from the left is match starting time, it's followed by country-league, you can see teams which are facing each other then followed by percentage of usual starting 11. In brackets you can see number of indentified players. Column "Ago" shows how much time passed since we received lineups.

There are a lot of matches (up to 200 in same time) during weekends and for faster navigation we give you special hints to find most useful info.

- team is missing player with most assists

- team is missing top-scorer

- team is missing regular keeper (based on minutes each keeper played this season)

- team is missing three or more regular defenders (based on minutes each defender played this season)

- team is facing hectic schedule (it a 3rd game in past 7 days)

- team changed head coach recently

- team is missing most expensive player (according to transfermarkt)

- mental conditions in the team are OK

- mental conditions are not good
When you click on teams from list you can see full stats: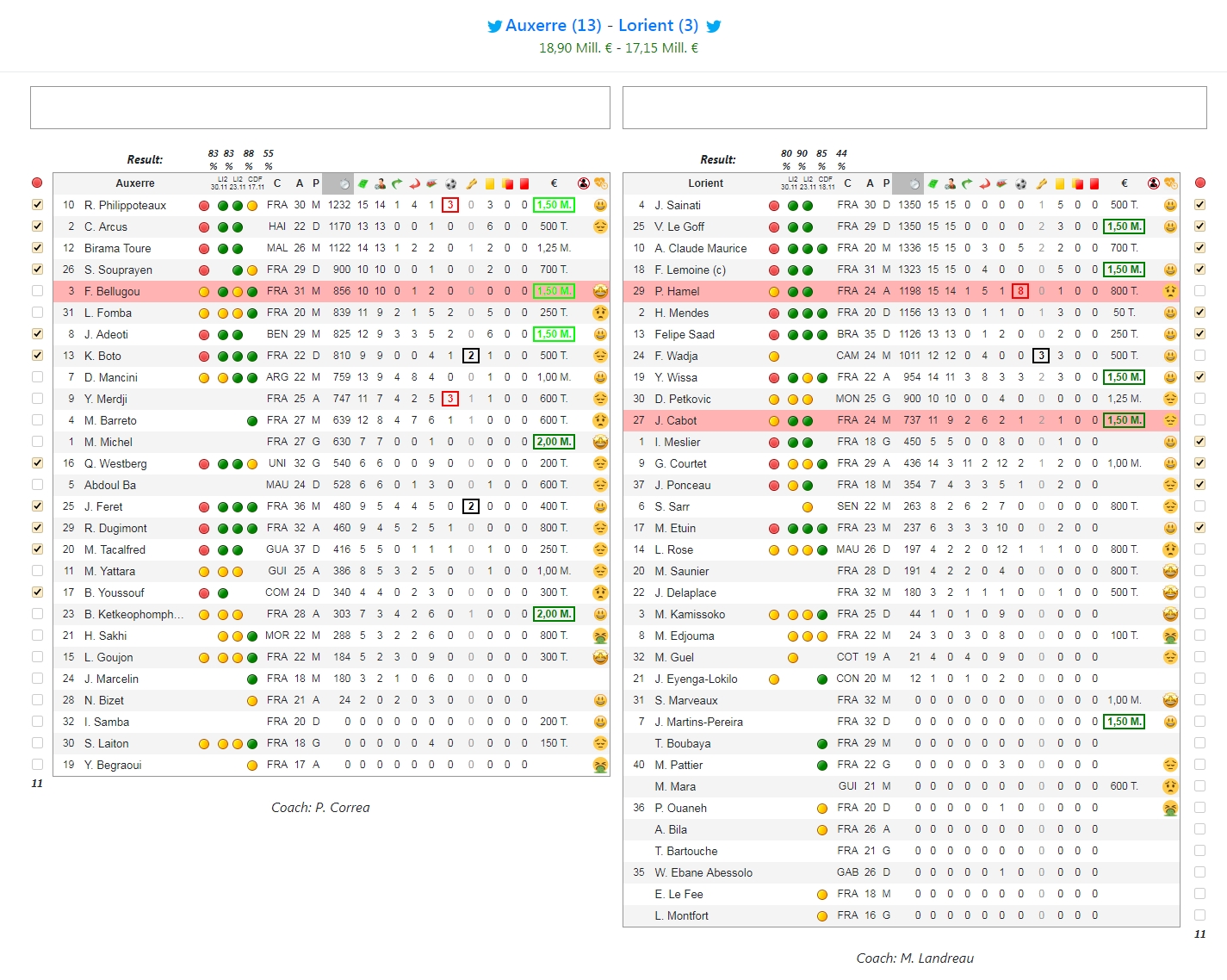 Coaches usually use 14-16 players while others just make numbers and not used often. We sorting out players based on number of minutes they played this season.
For top teams we have links for their twitters as most of team publish lineups at twitter first. Usually we publish info about starting 11 after 5-10 minutes when it's releases on official twitter page of the team (sometimes faster). In brackets you can also see league position occupied by team. Under this you can see market value (in euros). These stats allow to make clear who is favourite and who is underdog on paper (especially in cup games).
Next you can compare how much team is rotating (or missing players) and estimate chances based on it (for example we took match Auxerre – Lorient from French League 2).
You can identify players position on pitch just clicking on his name. Also sometimes players use nick names in squad list so out system can't find them and mark in squad list. For such cases you can see block just under team name and market value where we show those players. So you can add him to list by own just clicking on the flag next to player. And squad percentage will be recounted.
Look at numbers %83 83 88 55 just above red dots in front of players (for Auxerre team). It's shows % of usual starting XI. For Auxerre is't 83% for this match. Other numbers shoe % from last matches. Just under them you can see dates when latest matches been played and abbreviations of competitions.
Red dots mean starting lineup for current match. Yellow dots mean bench players. Green dots mean starting 11 in last matches.
Next you can see player's shirt number; name; nationality (abbreviation); age; position of pitch (A – striker, M – midfielder , D – defender, G – goalkeeper). Number of minutes he played this season; numbers of matches he was subbed in/off. Block with ball – number of goals player scored followed by number of assists, cards and market value. Next you can see why player is missing (injury/ suspension) and mental conditions.
Mental conditions showed according to biorhythms of players (we can read about it in other article). According to stats biorhythm impact players correctly in 65-70% of cases.

- all three biorhythms (physical, emotional, intellectual) of player are in plus zone. Most of records been established when athlete been is such conditions.

- one of player's biorhythm is at 0 in such days players conditions worsen

- all three biorhythms are in negative zone. In such days players are injury prone